Daystar's Sir Joshua
Home | Senior Does | Junior Does | Bucks | New Arrivals | For Sale

Reference Does | Reference Bucks | Breeding Schedule | On The Farm | Contact Us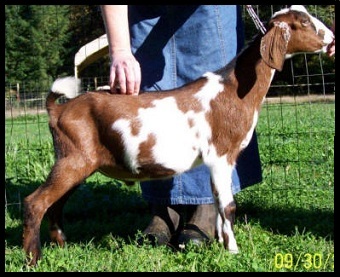 Click Here
to see Joshua's family tree
Joshua is an amazing Mini Nubian buck with excellant conformation and lovely ears.
He is the sire of our little girl Days of Grace.
Sadly he was to closely related to our girls so we found him
a home where he will be used more so he can pass on his wonderful bloodlines.
~Sold~
Congratulations Kristi on your new herdsire !!

Sire:

Echo Hill's 7-up

--1 CH leg





Dam:

Daystar's Valentine





Sire's Dam:

Echo Hill's Beautiful Butterfly

--2 CH Legs





Dam's Sire:

Echo Hill's King Othello





Sire's Sire:

Echo Hill's Jonah





Dam's Dam: Daystar's Clover

(Nubian)




Copyright 2008-2020 - Daystar's Farm
Website created & maintained by
TJ's WebDesign