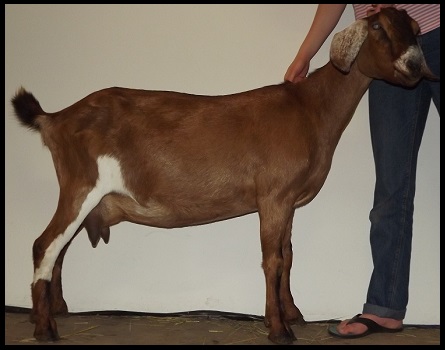 Click here to see Phoebe's extended pedigree
Phoebe is our 5th gen. Mini Nubian (53.90/46.09%) doe.
She has a lovely easy to milk udder with very nice attachment.
She has wonderful dairy character and body capacity that she passes on to her Mini Nubian offspring.

As a Jr. doe Phoebe won Grand Champion in the 2010 Summer V-show under Valerie Cieynski.
Her comments were;
"Today, I think the whole package comes together in the Senior yearling and she will be the Grand today.
She is long, level, showing us good dairy character and femininity while
having strength of bone as well."

Phoebe earned her milk star in both milk and butterfat on 305 day milk test!!
She did 1305.7 lbs. of milk & 63.65 lbs. of butterfat in 294 days!!
Way to go Phoebe!!
Kidding History
2011: 1 buck, 1 doe
2012: 1 buck, 1doe
2013: 1 buck, 2 does
2014: 2 does
2016: 1 buck
Sire:

Country Pride Farm Zacchaeus -

Tested G6S free!!


Dam:

Echo Hill's Lady Firefly





Sire's Sire:

Blue Oak's Superstition




Dam's Sire:

FCH Rainbow Meadows Charlie Brown




Sire's Dam:

Cedar Ridge Rosie


Dam's Dam:

Hackmen Farms Easter Sunrise




Phoebe as a yearling: