Daystar's Lady Suzanna 2*P
Home | Senior Does | Junior Does | Bucks | New Arrivals | For Sale

Reference Does | Reference Bucks | Breeding Schedule | On The Farm | Contact Us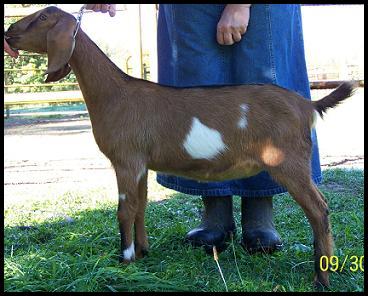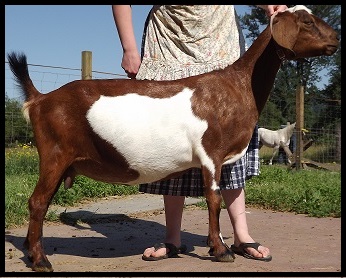 Click Here to see Suzanna's family tree
This is our beautiful 3rd gen. Mini Nubian (57.03/42.97%) doe.
Suzanna is an amazingly built doe, she is a dream to milk, and has an
amazing personality which she inherited from her dam.
She is out of our Mini Nubian virtual star winner, VMCH Daystar's Lady Miriam *P.
Her grand-dam milked two years straight without freshening and gave tons of sweet milk.

"My first place doe today has an advantage in levelness over the topline and from hips to pins,
width between the hocks, height in the escutcheon, and straightness of foreleg when viewed from the front."

as quoted from Karen Torrence, the 2013 MDGA Summer V-show dairy goat judge.
Daughter tested G6S Normal
Suzanna earned her production star in both milk and butterfat on 305 day milk test as a first freshener.
She did 1034.4 lbs. of milk & 50.69 lbs. in butterfat in 286 days.

Kidding History
2012 - 1 buck, 1 doe
2014 - 2 does
2015 - 1 doe



Sire:

Echo Hill's

7-Up







Dam:

VMCH Daystar's Lady Miriam *P







Sire's Dam:

Echo Hill's Beautiful Butterfly

--2 CH Legs







Dam's Dam:

Daystar's Valentine







Sire's Sire:

Echo Hill's Jonah







Dams Sire:

Echo Hill's King Othello




Copyright 2008-2020 - Daystar's Farm
Website created & maintained by
TJ's WebDesign